What is Kangatraining?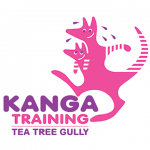 Kangatraining is a complete workout during which both cardiovascular endurance/flexibility and muscular capacity/strength are enhanced.
Unlike traditional exercise classes, new mums need not worry about finding a babysitter or crèche while she attends class because the babies are worn on them and get to be part of the action! As well as the physical benefits, the opportunity to meet other local mums in a fun, relaxed environment boosts their emotional wellbeing.
The pelvic floor and abdominal muscles as well as correct posture are given special attention.
Let's Kanga!
The benefits of Kangatraining include:
no need for a babysitter
total body workout
promotes mother and baby bonding
positive outcomes for postnatal depression
social, meeting other like-minded mothers
relaxed and fun environment
creates a support structure
promotes healthy mind and body
promotes safe and healthy baby wearing
Instructors
Emma and Naomi are both Mums of a young children and understand that embarking on a post-baby fitness program can be daunting. They are both is fully certified, having both completed a training course in Melbourne, first aid certifications, and exams in anatomy, postnatal health, and babywearing safety.
To learn more about Emma and Naomi, please check out the Who We Are page.
When to Start
You can begin Kangatraining once you have been given the "all clear" from your health professional to resume exercising postpartum. This can be anywhere from 6-10 weeks or slightly longer following a caesarean section. Our Kangatrainers will ask you to complete a health questionnaire to highlight any concerns so that they may modify the exercises in the workout for you. To see results sooner it is advised to attend a Kangatraining class once a week and workout with the DVD at home twice a week!
Babywearing Safety
Without a doubt, safety is the number one consideration when using a baby carrier. Many popular carriers, although not posing an immediate threat, are not optimally designed to support the natural development of baby's hips and spine.
Babies should be worn in a carrier that ensures that their legs are supported, in an "M" position with knees splayed out, and facing inward towards the wearer.
You are welcome to bring your carrier that our trainers will assess as to its suitability for the class. We will also assist you in getting the best fit and comfort for you and your baby. There will be demo carriers available at each class to try out or hire on an ongoing basis.
Come along and give it a go, you and your baby will love it!