Fit Mummas & Bubbas
Our Fit Mummas & Bubbas sessions give you a chance to ease back into exercise after having a baby. We complete a full body workout in these sessions, using bodyweight, Dumbbells, Kettlebells, Barbells. As a Post Natal focussed trainer, I adapt the workout based on your ability and post natal rehabilitation progression.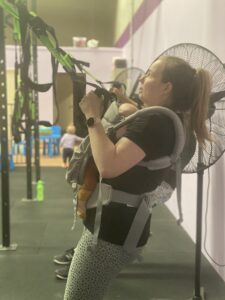 We often start the workout with a warm up and then on to some Post Natal appropriate core exercises. From there, we often work on strength, followed by a short workout to get your heart rate up.
Classes are 60min in duration.
What happens to Baby?
We have a play mat, bouncers, toys, etc in the centre of the class where baby can enjoy themselves while we workout. If your baby is having a rough day we can pop baby into a baby carrier and they become your weight for the workout (most babies will fall asleep during this time).
When can I start?
You can start when you are 6 weeks post Natural Birth or 12 weeks post Caesarean with clearance to return to exercise at your GP appointment.